Your weekly dose of sports betting tips, news and humor, every Saturday morning at 10am Eastern.
San Francisco at Los Angeles Rams – On this week's episode of Between the Lines, a part of the Props & Hops podcast family, host Matt Landes and professional bettor Fabian Sommer explored the possibility of the favorite flipping from the 49ers to the Rams as kickoff approaches. Suuma's rationale: injuries and scheduling.
The Rams are getting healthier on both sides of the ball with C Brian Allen, WR Van Jefferson and CB Troy Hill in line to return. In contrast, San Francisco will be without key players like WR Deebo Samuel.
The analysis for members of The Power Rank earlier this week suggested value on Rams +1.5. As of Saturday morning, most books have Rams +1. However, BookMaker, one of the sharpest books, favors the Rams by a point.
Follow Matt Landes for all his amazing work on the Props & Hops podcasts.
New England at the New York Jets – Professional bettor Rob Pizzola points out that the New York Jets seem better than their true skill level. They have played backup or rookie QBs in 3 of the past 4 weeks.
In addition, Zack Wilson has been on the field for 126 plays this year and ranks 27th of 31 QBs in EPA/play among players with at least the same amount of plays. Who ranks just ahead of him? Matt Ryan. Yeah, Wilson has been that bad.
Rob see value in Patriots -2.5 with Mac Jones back at QB. Check out The Hammer for all the great sports betting content that Rob and his team produce.
Digging deep for NFL information on the Packers – On The Football Analytics Show, Adam Chernoff, who recently moved to Right Angle Sports, discussed how the Packers lack cohesion on offense, and a group of young receivers make this worse.
Adam also thinks that Aaron Rodgers has an issue with his injured hand. When Rodgers appears on the Pat McAfee show, he usually does what McAfee asks of him. However, when Rogers was asked to hold up his hand and bend his thumb, he refused.
Adam has a fantastic origin story as a bookmaker in the Caribbean, and he also discussed many other NFL topics in a fantastic episode of The Football Analytics Show.
Injuries – The NFL injury information is obtained from ESPN. The college football information comes from USA Today.
Indianapolis QB Matt Ryan has a right shoulder sprain, but he will not be the starter when he returns. Moving forward, the Colts have decided that QB Sam Ehlinger is their starting QB.
Tennessee QB Ryan Tannehill didn't practice Friday and is questionable against Houston with an ankle injury.
Washington QB Carson Wentz went to IR with a finger injury. Tayler Heinicke will start against Indianapolis.
Georgia Tech QB Jeff Sims is questionable with a sprained foot against Florida State.
Kansas State QB Adrian Martinez is questionable against Oklahoma State with a lower body injury. Back up Will Howard is also injured.
Miami QB Tyler Van Dyke has an upper body injury and is questionable against Virginia.
Minnesota QB Tanner Morgan didn't play last week against Penn State with a head injury and is questionable against Rutgers.
Northwestern QB Ryan Hilinski is questionable against Iowa with a head injury.
Bet Bash – The third Bet Bash conference, hosted by Spanky, will take place on August 9-11, 2023 at the Circa. The first two conferences were amazing networking opportunities.
Expected goals in soccer – Analytics doesn't have to be obtuse. Gordon Strachan, the coach of the Scottish national team from 2013 through 2017, said the following in a conversation with a quant.
So you're just telling me the chance of scoring?
Yup, that's all you need to know about xG. This is a concept we will use to analyze the World Cup that starts November 20th.
For more great insights into soccer analytics, check out Ryan O'Hanlon's new book Net Gains. I am loving the book half way through.
Sports commentary – xkcd by Randall Munroe always kills it.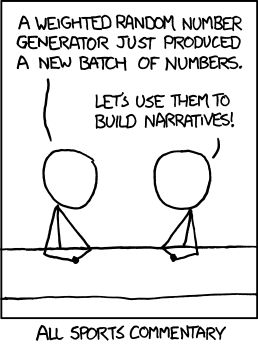 Football betting with a PhD edge
These nuggets were sent to The Power Rank's email newsletter. This is a free service that strives to be:
Valuable
Concise
Entertaining
Other emails offer analysis of college football and NFL games that founder Dr. Ed Feng has bet based on the analytics he developed from his Stanford PhD.
To get this free service delivered straight into your inbox, enter your best email address and click on "Sign up now!"